Hello, Libby! Meet May's Mahomie of the Month.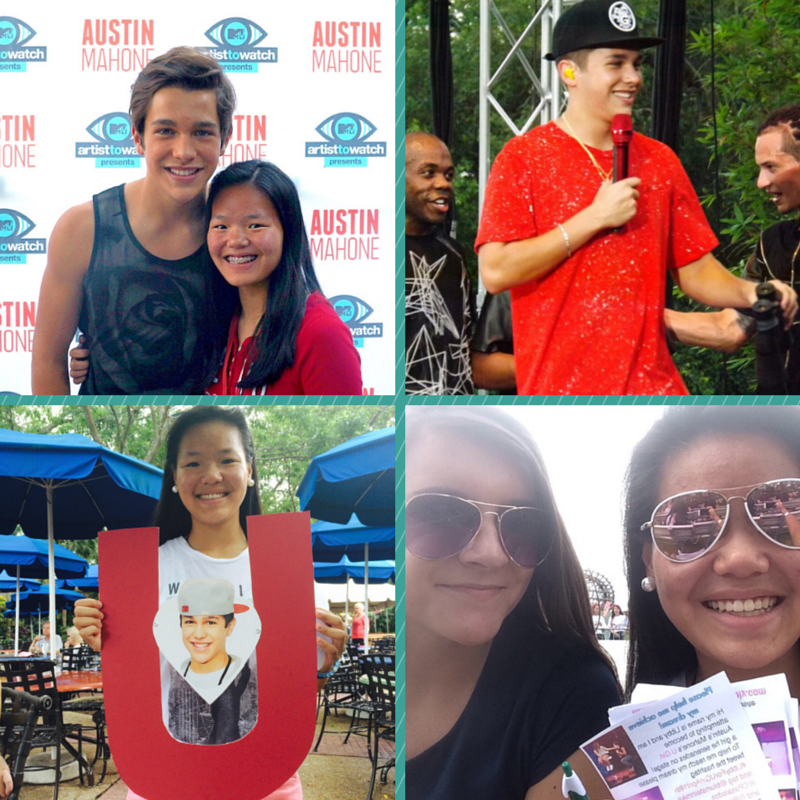 Favorite Austin Moment?

My favorite Austin moment would have to be going to my first concert of his in 2013 at Universal's Mardi Gras. It was a stand up venue and we didn't have a great view but that wasn't that big of a deal to me, I was just so starstruck that the boy that I had been watching on YouTube for a few years was finally right in front of me and that was probably one of the best experiences.

Besides Austin, what other music do you love to listen to?

I really love music and my interest is very diverse so I enjoy so many different genres and artists, from pop to country to R&B and even some alternative. Besides Austin I love Luke Bryan, Jason Aldean, Nick Jonas, Jake Miller, The Band Perry, Taylor Swift, Katy Perry and a lot more!!
What can you not leave the house without?

I can't think of a time where I have left my house without my wallet/purse. It carries everything my hands can't, of course money because you never know when that will be needed but also all my passes to theme parks, a little makeup and gum. All necessities!
If you could be any animal, what would you be?

I would definitely be a cheetah. I love going to Busch Gardens and seeing them because they are so beautiful and I think running at such high speeds would be amazing.
What is your current favorite song?

My favorite song currently is a hard one because it changes so often but right now I really like See You Again by Wiz Khalifa because the meaning behind it is so strong. I also love Carrie Underwood's Little Toy Guns and Fetty Wap's Trap Queen. But as for my favorite Austin song I have always loved Loving You is Easy.
What is your favorite lyric?

My favorite Austin lyric is "Look up at the sky like 'Look Mema I did it!'" This is my favorite because I have always thought it was the sweetest thing that Austin included Mema in his song. Though she is gone she is remembered by him and the mahomies. Every time I hear that it warms my heart.
What's your favorite summer activity?

I love going to theme parks in the summer. I live in Florida so there are so many parks around me and I had the opportunity to get annual Busch Gardens and Universal passes so I love going there often in the summer even though they are crowded.
Wheres's your favorite place to travel?

I enjoy traveling to Tennessee because I used to live there and a lot of my family lives there I love spending time with them because I don't get to do that very often anymore.
What's your favorite hobby?

One of my favorite hobbies is definitely playing soccer. I have played for about 10 years now and now play on a club team and love it. I also love spending time with my friends and family. Hanging out with my friends at concerts and theme parks is so fun. Being with my friends and family always makes life better. I also enjoy collecting movies and TV Seasons. The $5 dollar bins at Target and Walmart are always fun to go through. Even though they are expensive buying TV seasons are great because I love watching 'behind the scenes' and 'the making of...' special features, the bloopers are always fun for a good laugh.

Follow Libby On Social Media:
Twitter- @ladkins1220
Instagram- @ladkins1220
Instagram Fan Account for Austin- @mahomielove_